This Recipe
was used on:
Pasta with Ham and Asparagus
And included in the Menu for the Week of
Pasta with Ham and Asparagus
Preparation and cooking time: 25 minutes
Ham and asparagus are surely one of the food world's more perfect pairings.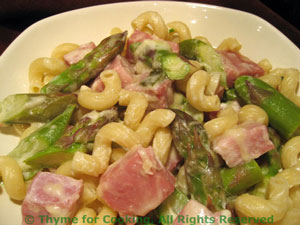 1 1/4 cup bite size pasta, penne, rigatoni
8oz (250gr) baked or deli ham
8oz (250gr) asparagus white or green
3 green garlic (2oz, 60gr) substitute 2 green onion and 1 clove garlic
1/2 cup (4oz, 125ml) chicken stock
1/2 cup (4oz, 125ml) Greek or plain yogurt
1/2 cup (4oz,(120gr) Gruyère cheese, shredded
2 tsp olive oil
Cook pasta according to package directions.
Snap off asparagus ends. Peel if using white. Cut asparagus into 1 1/2" (4cm) lengths. Bring a medium saucepan half full of water to a boil over medium high heat. Add asparagus and boil for 3 minutes (4 for white). Remove, drain, rinse thoroughly with cold water and drain again.
Cut ham into large, bite-size pieces. Trim and thickly slice green garlic or onion; mince garlic if using.
Heat oil in a nonstick skillet over medium heat. Add green garlic /onion and garlic, ham, asparagus and sauté until hot and lightly browned. Add chicken stock and heat through. Stir in yogurt.
When pasta is done drain and add to skillet; heat through. Sprinkle with cheese, stir to combine and melt cheese slightly and serve.